Jollof rice, also called 'Benachin' meaning one pot in the Wolof language, is a popular dish in many parts of West Africa. It is thought to have originated amongst members of the Wolof ethnic group in the Senegambia region but has since spread to the whole of West Africa, especially Nigeria, Ghana, and Liberia.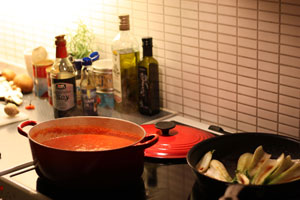 There are many variations of Jollof rice. The most common basic ingredients are rice, tomatoes and tomato paste, onion, salt, and red pepper. Beyond that, nearly any kind of meat, vegetable, or spice can be added.
Ingredients
For the Rice
3 tbsp olive oil
1 large onion
3 tbsp tomato purée
1 chicken stock cube
400g basmati rice
1 red pepper (optional)
1 yellow pepper (optional)
Bunch of coriander
2-3 cloves of garlic
A thumb size piece of ginger
Harbanero chilli
2 x 400g cans tomotoes
Seasoning to taste
Method
1. Add the oil to the pan and fry the onions until soft but not golden, about 5 mins. While the onions cook, make the ginger and chilli base. Put the garlic, tomatoes, ginger and chilli into a food processor or blender and whizz till smooth.
2. Add the tomato purée to the onions, fry for another 2 mins then add the ginger and chilli mix. Crumble in the stock cube, stir then pour in 600ml boiling water. Bring to the boil then simmer for 15 mins.
3. Add the rice to the pan, turn the heat down to a simmer then cover with foil and a lid (so no steam can escape) and cook for 20 mins.
4. Take the lid off (the rice won't be cooked yet) then scatter the peppers and okra (optional) over the rice. Re-cover and cook for 10 mins until the veg is softened and the rice tender. Just before serving, mix the veg through and scatter over coriander.