Nowadays' "Jerking" has become a very popular method of cooking in Jamaica. In some streets at weekends steel drums are converted to barbecues and the delicious smell of cooking with spices fills the air.
Their are numerous ways to make a jerk sauce this is a version that uses most of the classic ingredients.
The flavours of Jamaica and Britain really work well together – and actually many of the same spices found in jerk can also be found in some of the most quintessentially British puddings, syrups and even our beloved mulled wine. The recipe is an 'easy to do' version, there are numerous ways to approach this great dish.
Enjoy!
Ingredients
4-5 kg pork, skin on
sea salt
ground pepper
1 generous pinch dried rosemary
1 generous pinch dried thyme
1 whole nutmeg, for grating
olive oil
1 litre quality cider
For the jerk salsa
1-2 fresh Scotch bonnet chillies, to taste
2 bunches spring onions, trimmed
1 level teaspoon ground cinnamon
1 level teaspoon ground cloves
2 level teaspoons ground allspice
3 limes
1 thumb-sized piece fresh ginger, peeled
a few fresh bay leaves
2 cloves garlic, peeled
a few fresh bay leaves
1 large bunch fresh Thyme
seasoning to taste
Method
Here is one of many ways to make a jerk chicken:
1. Preheat the oven to full whack (about 240°C/475°F/gas 9). Carefully score the skin and fat on the shoulder into zigzags about 1cm deep, using a very sharp knife or a clean Stanley knife. Sprinkle and rub in a good pinch of salt, pepper, dried rosemary, thyme, and a few good gratings of nutmeg. Add a lug of olive oil, then rub those flavours all over the meat and into the scores. Place the pork, skin side up, in your largest roasting pan. Pour one of the bottles of cider into the bottom of the tray, put into the hot oven for 30 minutes so the crackling gets going, then turn the heat down to 130°C/250°F/gas ½.
2. After the pork has been in for an hour, add the rest of the cider and cook for a further 6 to 7 hours, or until the meat pulls apart easily. Halfway through the cooking time cover with a double layer of tin foil.
3. Once the pork is perfectly cooked, move it to a large serving board or platter. Carefully pour any fat from the roasting tray into a Kilner jar for some lucky roast potato some day, but leave the wonderful flavourful cooking juices in the pan. Then add the Scotch bonnets to a liquidizer with the spring onions, spices, the juice from the limes, ginger, bay leaves, garlic, a squeeze of honey and 2 lugs of extra virgin olive oil. Pulse together until you get a salsa consistency, then mix the salsa into the juices in the roasting tray, have a taste and balance out the salt and acid if needed. It should have attitude and loads of personality. Pour that salsa on to a platter, then pull the crispy crackling off the shoulder, get rid of any flobbery fat underneath, and use two forks to roughly pull the meat apart. Pile the meat on top of the salsa and toss together quickly.
The recipe is an 'easy to do' version, there are numerous ways to approach this great dish.
Goes well with a root mash or Roast potatoes.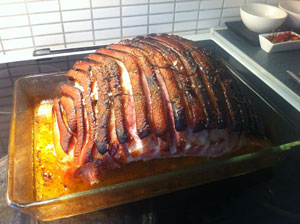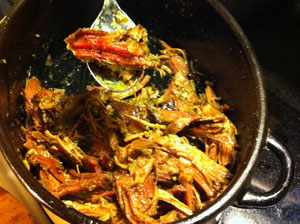 https://www.cre8ivelife.com/wp-content/uploads/2014/01/jerk-pork-1.jpg
224
300
Anna
https://www.cre8ivelife.com/wp-content/uploads/2023/01/JeromeLtd-.jpg
Anna
2015-12-28 17:06:30
2016-01-30 17:29:50
Slow cook Jerk Pork