Jamaican Jerk can be a sauce or a seasoning and can be a delicious way to add a fiery and zesty spice to your menu. Once used as a meat preservative by the Arawak Indians, they later seasoned their meats with a rub dominated by all spice berries and leaves, and roasted over a wood fire.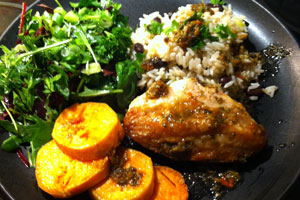 En underbar kycklingrätt med en sprakande smakkombination av kryddor från Jamaica. Timjan, ingefära, habanero, bacardi, vinäger och vårlök är några av ingredienserna i denna rätt.
Ingredients
For the Jerk Sauce
4 spring onions
bunch of fresh thyme
3 bay leaves
ground cloves
ground nutmeg
6 tablespoons golden rum
6 tablespoons white wine vinegar
1 tablespoon runny honey
1 harbanero
4 gloves of garlic
Jerk sauce can be used for various dishes, below are the rest of the ingredients to make a great jerk chicken dish.
4 x 180g chicken breasts
fresh rosemary
2 spring onions
long-grain rice
chicken stock
1 x 400g carton of black beans
Method
Here is one of many ways to make a jerk chicken:
1. Fry the chicken portions skin side down until golden, then place in a snug fitting baking try uncooked side down.
2. As the chicken is frying make the jerk sauce – Trim and roughly chop the onions and put into the liquidizer with a bunch of thyme, 3 bay leaves, a large pinch of ground cloves, nutmeg, and allspice, 6 tablespoons each of rum and vinegar, 4 cloves of garlic, 1 tablespoon of honey and 2 teaspoons of salt. Remove the seeds from the harbanero (optional) and add to the liquidizer, blitz the ingredients until it becomes a really smooth liquid paste. To thicken add a little olive oil (optional).
3. Pour the jerk sauce between the chicken avoiding saturating the crispy skin top side. Scatter rosemary over the chicken and place the oven and cook until evenly cooked through 15-30 min.
4. As the chicken is cooking put the rice on. Finely slice 2 spring onions and put in the pan with a good lug of olive oil heat and stir until the onion softens then add the water and chicken stock and bring to the boil then cook to nearly ready and add the black beans.