This dish originates from Iranian cuisine and it fits nicely with the Sara's Spicy Salmon recipe. It's also great cold.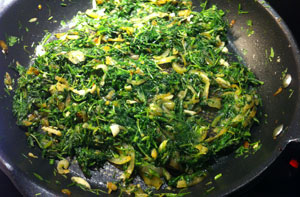 Ingredients
Sara's Herb SalmonSalmon, ideally a whole side
Olive oil
Onion (1 per serving)
Garlic (1 clove per serving)
Sea salt
Freshly ground black pepper
Herbs ** Add all the herbs you choose (maybe not mint so it does not taste like toothpaste!), parsley, coriander, chives, dill, fenugreek (if you get hold of it) everything…
Important!! The herbs MUST be fresh.
Method
1. Fry the onion until it is golden / rust colour. (approx. 1 onion per serving)2. Add the garlic – 1 clove per serving then add the herbs – salt, black pepper. Fry until you begin to smell the herbs aromas when the flavouring begins to come out and everything is well mixed.
3. Remove the pan from the heat.
4. Salt the salmon and put in the oven (approx. 175 – 200 degrees Celsius) until the surface begins to whiten (approx. 3/4's cooked).
Remove the salmon and spread with herb mix in a thick layer over the top of the salmon and place back in the oven. Keep an eye on the salmon during this final stage and take it out when it is still very juicy and absolutely not dry! It can then be left for a further 5 minutes before serving so it becomes cooked through by its own heat.
The following recipe originates from Iran and comes from Sara and her mother Shahpar, when last visiting Sara in Stockholm she cooked this dish. We not only had a great evening meal but also had several quick snack meals during the following days from what was left, all of the flavors just got better and better.*The portions in this dish is given by a per person amount dependent on the scale you are cooking for.
https://www.cre8ivelife.com/wp-content/uploads/2014/04/IMG_49283.jpg
800
1200
Anna
https://www.cre8ivelife.com/wp-content/uploads/2023/01/JeromeLtd-.jpg
Anna
2014-09-07 18:09:52
2014-11-08 16:47:15
Sara's herb salmon