Coriander is native to regions spanning from southern Europe and North Africa to southwestern Asia. It is a soft plant growing to 50 cm (20 in) tall. The leaves are variable in shape, broadly lobed at the base of the plant, and slender and feathery higher on the flowering stems.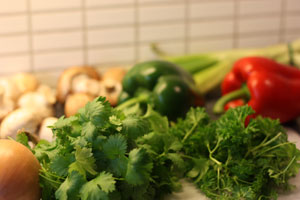 Coriander creates a lovely flavor in food, complemented with mushrooms in a white sauce you'll get Coriander Mushroom Sauce, this can work well with oven backed cod, new potatoes & vegetables or salad.
4 fillets of cod
New potatoes
Carrots
Ruccola
Ingredients
Knob of butter
1 medium finely chopped onion
1 large crushed garlic clove
Fresh bunch of coriander
1 1/2 teaspoons ground cumin
1 tablespoon all purpose flour
1 cup milk
6-12 chopped mushrooms
1/4 teaspoon garam masala
Finely chopped dried harbanero to taste (optional)
Black pepper
Method
How to make the sauce:
1. Heat the butter in a heavy-bottomed saucepan over a medium heat. Add the chopped onion and salt and cook, stirring often, until the onion has gone translucent, about 3 minutes.
2. Add the garlic and harbanero (optional) and cook, stirring, 1 minute. Add the coriander and cumin and cook, stirring, 1 minute.
3. Remove the pan from the heat and stir the flour in. Then replace on a medium heat and stir about 2 minutes. Gradually pour in milk, stirring constantly to prevent lumps. Once you are content with the consistency of the sauce add the mushrooms and simmer gently for 5 minutes stirring regularly.
4. Finally stir in the garam masala and continue to cook at a bare simmer until the mushrooms are tender, add salt and pepper to taste.