The precise origin of BBQ sauce is unclear. Some trace it to the end of the 15th century, when Christopher Columbus brought a sauce back from Hispaniola, while others place it at the formation of the first American colonies in the 17th century. References to the substance start occurring in both English and French literature over the next two hundred years. South Carolina mustard sauce, a type of barbecue sauce, can be traced to German settlers in the 18th century.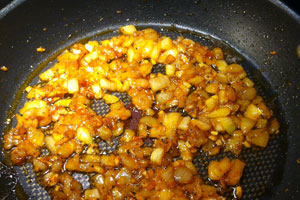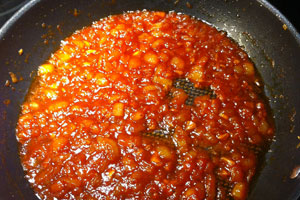 The most common barbecue sauce in the United States is a commercialized Kansas City-style which uses tomato purée, corn syrup, molasses and vinegar and has a long shelf life. Different geographical regions have allegiances to their particular styles and variations for barbecue sauce. For example, vinegar and mustard-based barbecue sauces are popular in certain areas of the southern United States, while in the northern U.S. tomato-based barbecue sauces are well-known. In Asian countries a ketchup and corn syrup-based sauce is common. Mexican salsa can also be used as a base for barbecue sauces.
Ingredients
For the BBQ Sås
Olive oil
1 small finely diced onion
2-3 cloves garlic finely chopped
Sea salt
Black pepper
1 tablespoon brown sugar
1 teaspoon smoked paprika
1 tablespoon cider vinegar
2 tablespoons Worcestershire sauce
6 tablespoons tomato ketchup
A small amount of chopped harbanero chilli (optional)
Method
1. Heat oil in a frying pan, add onion and garlic with some seasoning and the sugar, and fry for 5 minutes until softened.
Add paprika and stir to combine. Cook for 10-15 minutes until onion is caramelizing, then add vinegar and let it cook out for a few minutes. .
2.Add Worcestershire sauce and tomato sauce, mix well and continue to cook for about 8 minutes until sauce has reduced to a dropping consistency. Taste and adjust seasoning.